Who?
Makerspaceman a.k.a. Heikki Pullo is a technology educator and a makerspace-enthusiast. In his work both as a teacher and an entrepreneur he aims to create makerspaces where ideas and makers can meet and grow!
Heikki currently works in the Arabia Comprehensive School as a craft&tech teacher. He also participates Käsityökoulu Robotti-association and works as one of their educators for children and adults.
Arabia Comprehensive School emphasizes design learning. As a teamleader Heikki took part in opening Helsinki´s first school-based makerspace. Arabia Makerspace was launched in September 2017.
FUSE – technology learning enviroment was piloted nationally in Arabia Comprehensive School, also with Heikki as a teamleader. FUSE – learning environment is created and administered by North Western University (Chicago, USA).
Heikki belongs to an expert-teacher-network of Helsinki-city. He is part of the STEAM-team which organizes teachers' science and technology training.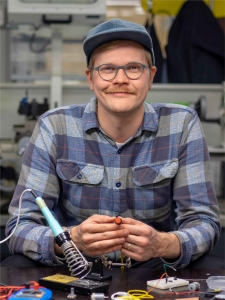 Now
EduLaser – lasercutter designed for education
Makerspaceman and Scantima Maskin are developing lasercutter-consept for education. Our aim is to offer user-friendly Co2-lasercutter & software with pedagogical training, demo projects, sample materials and services.
Product design is based on Scantima Maskin Redsail M700/M900 lasercutters. If you have these machines allready, we are also putting together an EduLaser-update package.
You can follow project on instagram: #edulaser