Material on this site is free to use. Use same Creative Commons-license and remember to mension original creator when distriputing.
Links for download and websites are on headlines.
Attribution-ShareAlike 4.0 International
[column column="one-third"]
Makerspaceman´s internet-tips
Inkscape
– Free open source 2D vector draming program. Work well with laser cutters and vinyl cutters.
Tinkercad
– free online 3D modelling software. Good with beginners and works well with 3D printers.
Instructables
– free platform, where you can share your projects and tutorials.
Käsityökoulu Robotti
– free technology teaching material in Finnish
[/column]
[column column="one-third"]
Laser cutting
Cardboard calipers
– use 1mm cardboard
Shop sign – electronic worktools FIN
– use carving values: MDF, vaneer, acrylic
– apply masking tape on top of sheet, takes away burning marks.
Vaneer push stick
– use 6mm laser vaneer/MDF
– use 6mm wood pegs for glue-up
– sand flat and round the handle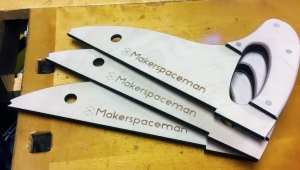 [/column]
[column column="one-third"]
Manuals
3D printing workflow (FIN):
Ultimaker 2+ printer
+ Cura-software

Vinyl cutter workflow (FIN):
Roland GS-24 cutter
+ Inkscape Cutstudio plugin
+ Roland Cutstudio
[/column]